DCK 01: THE ALL-IN-ONE
SLS POST PROCESSING TOOL
If you own at least one SLS® or MJF® 3D printer, you already know how time-consuming the manual de-caking and parts cleaning of your build are. The monthly hours your team will spend in this trivial yet crucial part of your production workflow can be huge.
And we know that your operators can use their time in much more useful, profitable ways.
Automation is the key to optimize production and boost your additive manufacturing department's economic performance.
Our A.M. expertise, together with our IntegrAM partners' extensive surface treatment know-how, brought to life the DCK 01 System: the definitive, all-in-one SLS® post-processing solution for midsized printers and high production environments.
1: De-caking
Automatic, gentle destructuration of your build

2: Cleaning
Automated depowdering process (patented)

3: Finishing
Surface smoothing cycles

4: Powder recovery
Efficient used powder recovery, with automatic sieving

5: Mixing
2-cycles, optional mixing system
Operating volume: up to 36 liters
Automatic de-caking
Self-regulating used powder recovery
Automatic part cleaning by a patented blast & tumble process
Environment- friendly surface finish process (no chemicals)
No air-extraction system needed
Customizable processing programs via Touch-screen to PLC interface
ATEX Vacuum system
Industry 4.0 ready
Footprint: 200 x 115 x 210 cm
Requirements: 4 bars comp. air, 380V
Casing for improved acoustic comfort and reduced powder fly-by
[DCK 01 C model]
Integrated 2-cycles mixing and sieving system
Powder conveying system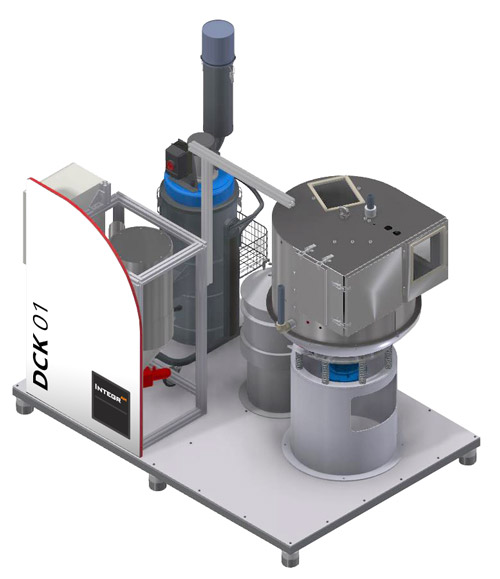 Up to
30x30x40cm
Process volume
Avg process time
0h 50min
For a full build
Time saved per build*

3h
In manual operations
* Simulation based on a 32 liters build, containing up to 100 pcs of varied sizes. Max allowed part size for the DCK 01 is 15x10x10 cm

RETURN-ON-INVESTMENT
SIMULATION
We developed a quick ROI analysis, based on the average hourly cost of an additive manufacturing technician in Europe, to showcase the economic benefits of the adoption of an automated post-processing tool.
We based our simulation on the following key elements:
The time needed to manually break-out a build and recover used powder
The time needed to manually sandblast an average of 3-4 parts per each build-liter, and bringing them to the tumbling machine afterward
The economy of not having to purchase every tool needed to process cake ad parts manually
The only factors we cannot measure and include in this ROI simulation are the extra advantages you will get from having your team working on higher added-value tasks — but we are sure you will measure them
  The break-even is expressed in months after the purchase of the system.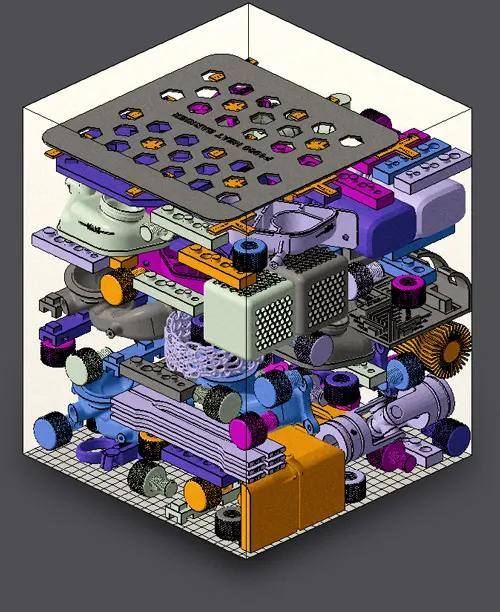 For 32 liters' daily production
Eg: 1 x Prodways ProMaker P1000 X
or 2 x EOS Formiga Velocis
For 69 liters' daily production
Eg: 1 x EOS P396
or 1 x Farsoon 403P
For 85 liters' daily production
Eg: 1 x EOS P396
+ 1 x EOS Formiga Velocis
All trademarks, logos and brand names are the property of their respective owners