SurfPRO tools
Surface finishing systems for plastic and metal
SurfPRO tools are advanced surface finishing/roughness reduction systems developed for metal, polymer and composite 3D printed parts, and with fields of application that range from automotive to aerospace, from medical to consumer goods.
Based on the Microfluid process, the systems make use of media as conveying vector for the 3D printed objects, while the surface finishing is performed by in-house developed abrasive gels, capable to reach the most hidden features of the processed parts.
Depending on customers' needs, the SurfPros can work as standalone systems as well as in conjunction with our VirboBlasts (to even the surface rugosity before the finishing process) and with electrochemical systems.
Not your average
Vibratory finishing system
Traditional tribofinishing, also called tumbling or vibratory finishing is a widely known process for mass-finish metal or plastic parts.
Whether you effectively need to process a large number of 3D printed parts (which is a typical SLS and Binder Jetting scenarios) or a small batch (FDM or SLM scenarios), the process is the same: parts have to be processed through different abrasion stages, from the most aggressive to the gentler.
Usually, the process requires up to 4 vibratory systems, each loaded with different tumbling media, and the parts have to be manually moved from one machine to another every time a cycle ends.
Or, you could have just one machine, and replace media between each step (after a careful cleaning), but that's an even less optimized workflow, economically inefficient.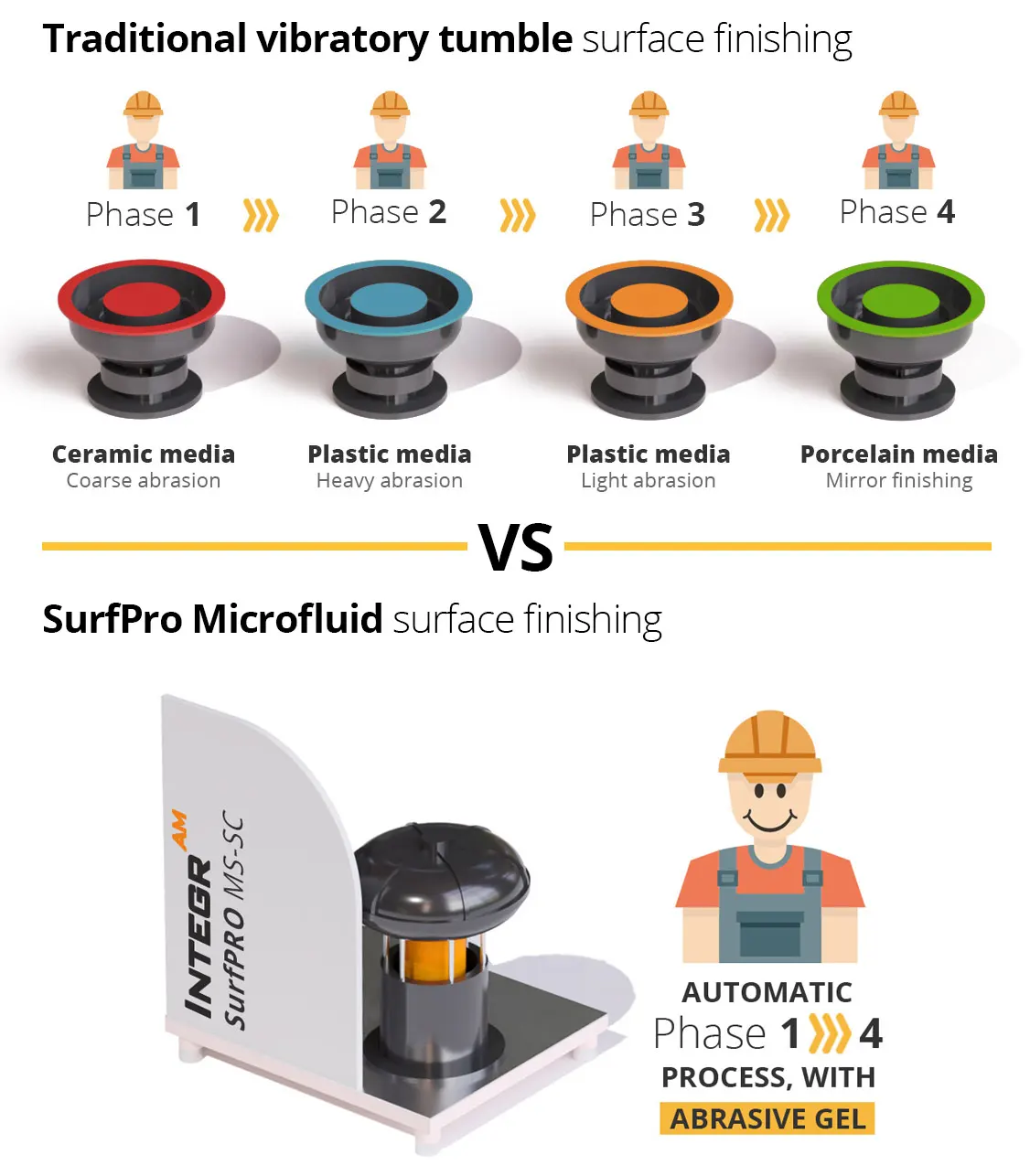 The SurfPro Microfluid advantages
What sets the SurfPro Systems apart from the other finishing systems, is the Microfluid technology, which brings multiple advantages.
Affordable

With just one machine you can perform all the steps aforementioned, without the need for human intervention: just put your parts in the machine, load your recipe, and press play. Less hardware in your factory, less labor, and a low TCO (total cost of ownership) granted by low-cost consumables and extremely low maintenance needs.

Gentle with small features

Compared to other mechanical finishing technologies, the patented SurfPro process is much more gentle, allowing to reach extremely low Ras without destroying thin details and preserving sharp corners.

Automatic

SurfPro brings a new level of "affordable automation" to the surface finishing world.
Once started, the machine will dose automatically the different gels, and perform automatic cleaning after each cycle. Apart from pressing "play", the operator only needs to load the parts and unload them at the end of the process.

Flexible

The SurfPros are fully programmable by the user: time per each cycle, the quantity of gel to be used, duration of the wash cycle, etc. If needed, you could even convert it into a traditional tumbling machine!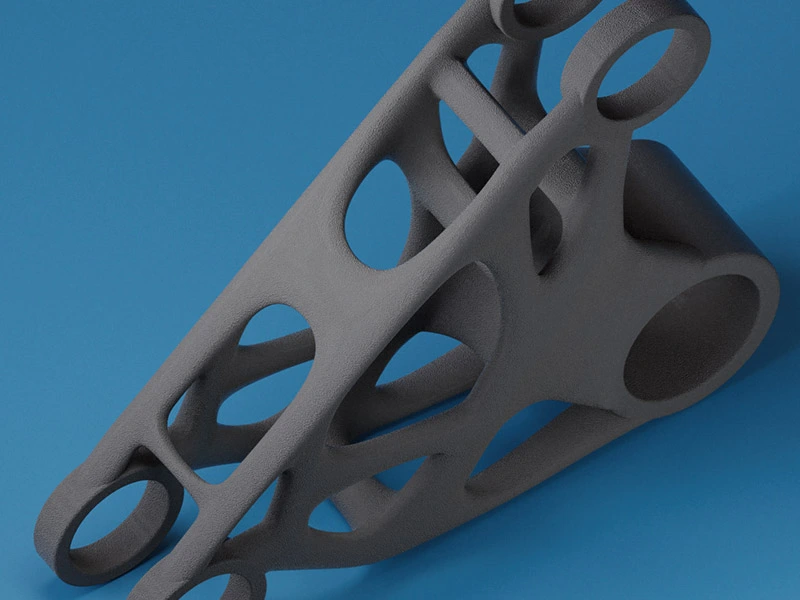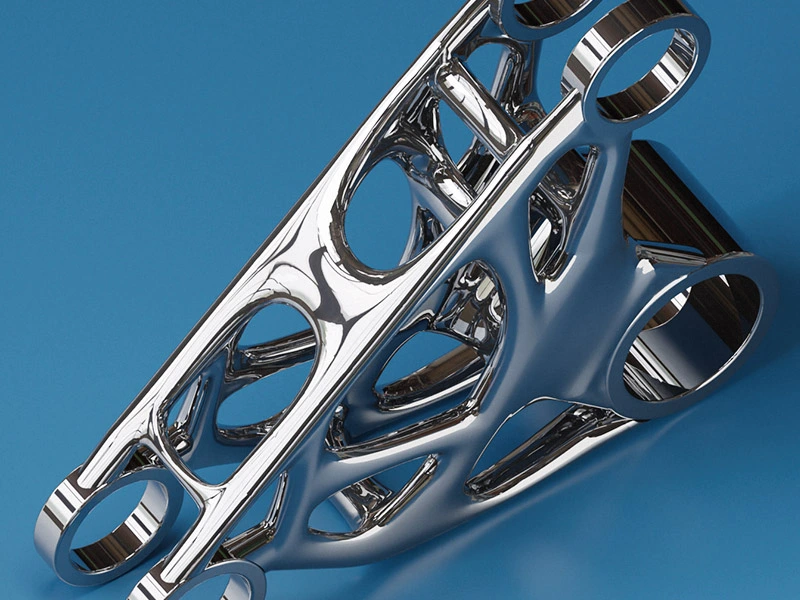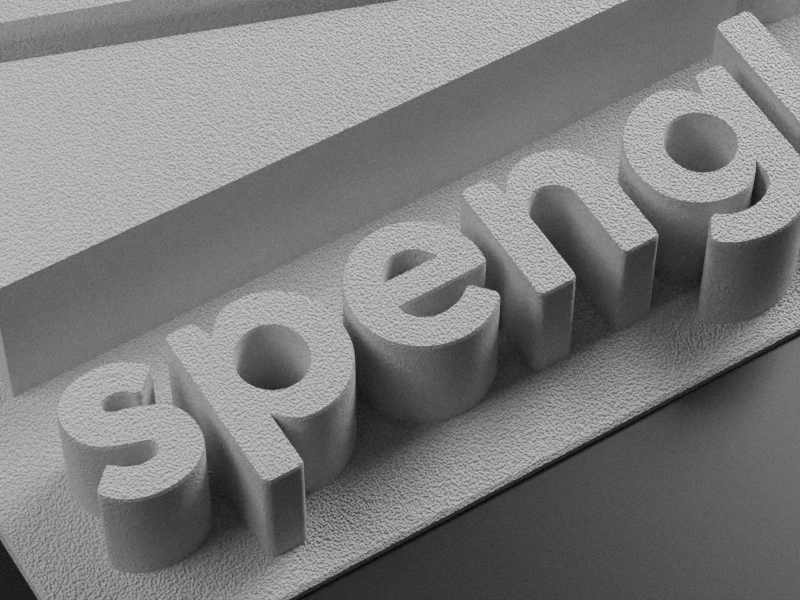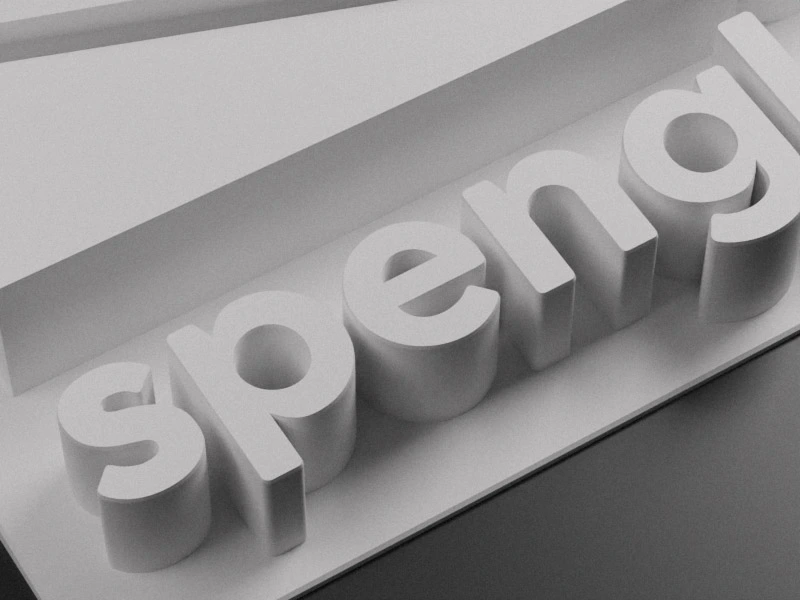 SurfPRO BS
For plastic and metal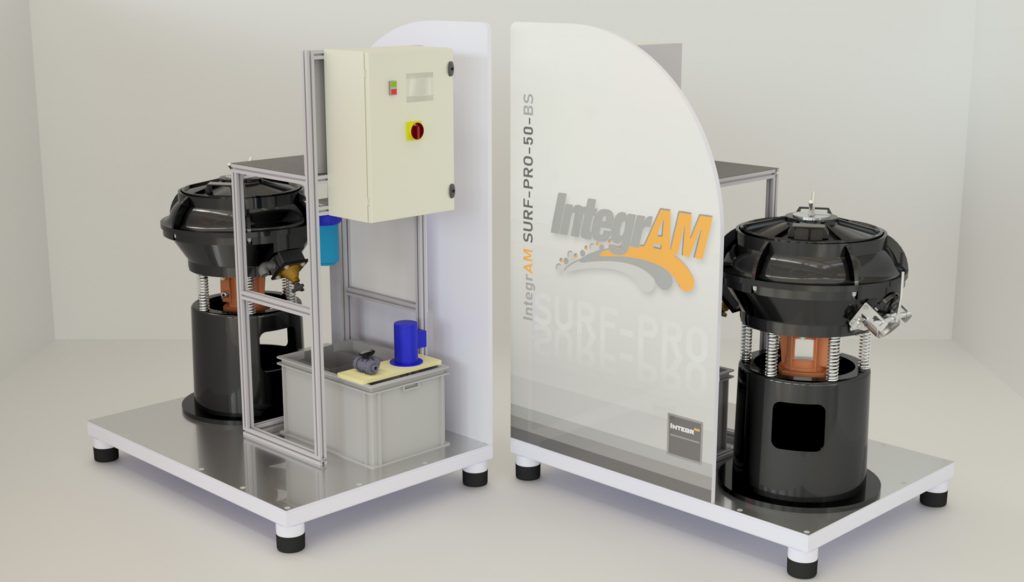 The SurfPRO BS, the entry level of our surfacing tools, is developed for wet finishing processes / surface roughness attenuation.
SurfPRO MF
For plastic and metal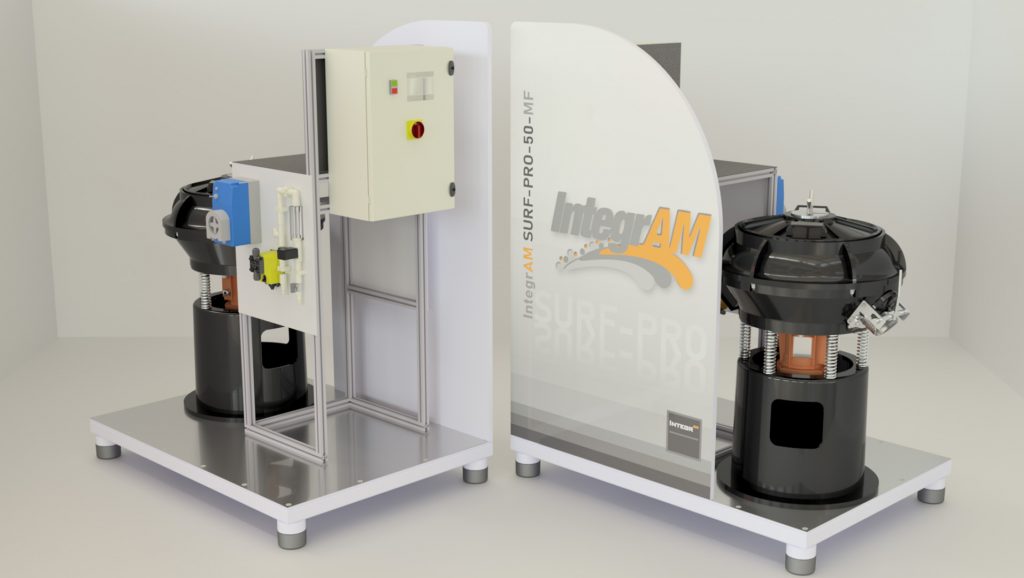 The SurfPRO MF allows operating MicroFLUID (Patent pending) multitasking processes. The use of this technology allows using a single machine and a single finishing media instead of multiple machines / multiple media types. This, thanks to an automatic gel-dosing system that allows to seamlessly pass through three different surfacing stages: from very abrasive to medium abrasive to polishing.
SurfPRO MS-SC
For plastic and metal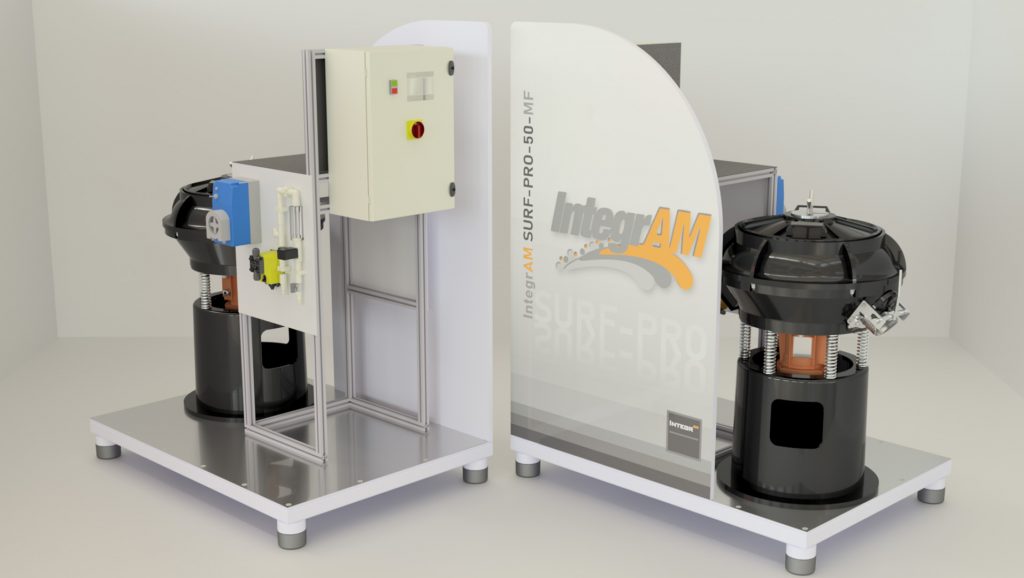 The SurfPRO MS-WB – MultiSTEAM Wet BLAST line of machines allows to operate processes of attenuation of roughness with the help of steam, even wet blasting with surface sanitation processes (Patent pending) – the use of this technology allows to use one single machine for differentiated, multipurpose tasks.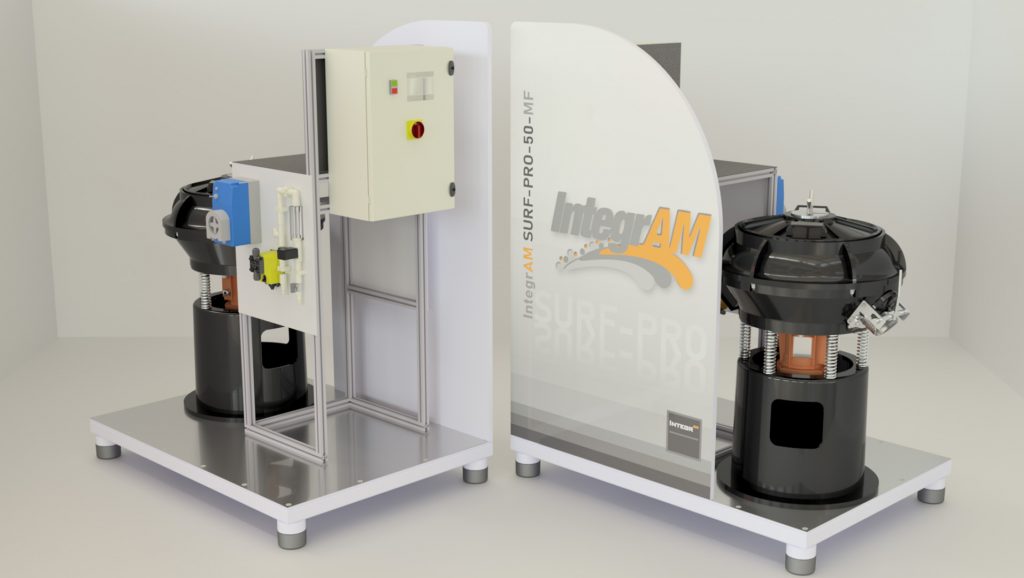 The SurfPRO ABK line of machines – Abrakem – allows to operate wet Abrakem finishing processes or surface roughness attenuation.